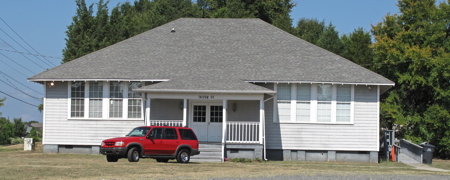 Sept. 7, 2010
The church sign stopped me in my tracks. McClintock Presbyterian. I had read of it for decades.
The reason: On the church grounds was a Rosenwald school building. In the South in the teens and '20s, the schoolhouses erected with parents' sweat equity and financial matching funds from Sears Roebuck President Julius Rosenwald sometimes sheltered the first educational experiences that African-American children had.
The McClintock Rosenwald was built in 1922-23 and sits off Erwin Road in southwest Charlotte. It's 4 minutes east of Winget Park Elementary, which opened 84 years later.
In a 1987 report to the Charlotte-Mecklenburg Historic Properties Commission, Dan Morrill wrote that the Rosenwald buildings "mark black farm communities which once existed in Mecklenburg County, often now vanished."
About the same time, historian Tom Hanchett wrote that for Rev. Robert Shirley, then pastor of McClintock Presbyterian, "the school's story is a way to communicate to church youth the value of today's educational opportunities. He plans to restore the building. Rev. Shirley hopes it will be a magnet to draw his congregation of tenant farmers' children and grandchildren, now turned city dwellers, back each Sunday to the church in the midst of the fields."
One thing that has changed since Shirley's day: Most of the fields surrounding the church have sprouted tract houses. McClintock has lots of neighbors.
Perhaps those neighbors are folks newly arrived from parts north, south, east and west. They may know little about the ground under their suburban sod. The McClintock Rosenwald schoolhouse, with its large classroom windows and industrial layout, is a reminder of the generations of children who were allowed to go to school during the cotton picking season only on days when it was raining.